Due to the pandemic, protecting the company's reputation and bottom line are going to be the major focus areas during the next few years for all lawyers working as in-house counsels. – Rahul Singh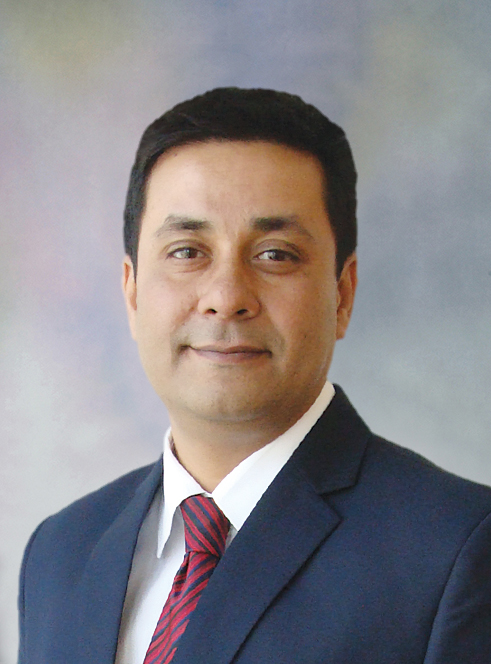 Rahul Singh is a lawyer with 20 years of professional experience. Currently working as Head of Legal for CBRE India, he has had experience working for both national and international clients in the various roles he has undertaken such as heading operations for leading legal outsourcing industry companies such as CPA Global and Lexadigm. Rahul's expertise lies in contract management, risk assessment & mitigation and regulatory compliance & legal advisory. Rahul is a graduate of the 2001 batch of Campus Law Centre, Faculty of Law, University of Delhi.
May 27, 2021
By LE Staff
I will answer the second part first. In my humble opinion every lawyer should start her/his career by working under a litigating lawyer for atleast 2 years, at various forums. This experience will provide any fresh lawyer a perspective of how any dispute is handled. Armed with this experience any lawyer can decide whether she/he wants to remain in litigation or join a law firm or a company as an in-house counsel.
The legal profession allows any lawyer a variety in terms of work at the different stages of a lawyer's career and that is something I have benefitted from. I started my career in 2001 working under an AOR at various forums right from district courts to the Supreme Court of India. From 2004 till 2014 I dabbled with legal outsourcing operations, working for international law firms and clients, setting up companies, business divisions and handling P&L for outsourcing companies. Thereafter, I got an opportunity to work for CBRE as their head of legal and continue to do so till date.
Hence, I did not make a conscious decision to carve out a career as an in-house counsel but have simply gone in with the flow and opportunities arising, with an open mind to learn every day.
The most important aspect in my view is to keep learning every day irrespective of where your started or where you currently are. The legal profession will allow everyone an opportunity to shine provided you keep on learning.
CBRE is the world's number one real estate services company with a Fortune ranking of 128 and working for it can be both challenging and interesting, from handling calls very early in the morning to reviewing a complex project management agreement. Any typical day is replete with helping internal stakeholders understand either the nuances of a particular contract or a statute or regulation and how it affects the Company and how can we protect the interest of the company. This manifests itself in the form of either negotiating a contract, sending out an advisory and having a discussion with the various teams within the company. The last half hour of the day is typically spent scribbling down the new learnings into my diary.
The pandemic has had a significant impact on businesses across industries therefore necessitating General Counsels to think out of box. During the first phase a major portion of our effort was to train business teams on interpretation and application of "force majeure" and helping them ward off push backs from clients and protect the bottom line of the company.
The second phase brings more challenges in terms of helping the company in its revenue generating efforts. Removing blockages in certain inherent contract negotiation processes, removing crept up biases in legal language interpretation, encouraging teams to adhere to SLA norms (we at CBRE have an internal legal team SLA of reverting with a completed task to a business request within 72 hours) etc which will help the company close contracts early and go live with services earlier than the norm, are some issues that demand attention.
Protecting the company's reputation and bottom line are going to be issues that are going to remain major focus areas during next few years for all lawyers working as in-house counsels.
Technology is an integral part of our lives and we can only benefit from judicious utilization of the available technologies, even for our profession. Creating a central contract repository, availability of contract templates online, contract notification system, legal and regulation updation system developed in-house without purchasing expensive software is something we have undertaken at CBRE and is something I wholeheartedly endorse.
AI and for that matter any other technology will always be complementary. They will never be able to replace the lawyer's experience and understanding of a legal issue and how to tackle the same, irrespective of the extent of inputs provided to any technology platform.
This was a humbling experience. Thank you to Forbes and the Jury. I never thought that I would be recognized as such and that too by Forbes within 20 years of my professional career. Everyone puts in hard work and specially in the legal profession, but being recognized by Forbes and that too by a jury comprising of such eminent personalities including retired Supreme Court judges does bring a sense of pride and satisfaction to the fact that maybe the path I chose was right and my service to clients as a legal professional was and is appreciated.
Always strive to learn from whatever you are doing, whether reviewing a contract, advising clients, negotiating a legal document, or appearing before a court of law. You will grow as a legal professional irrespective of roadblocks and lack of opportunity if you continue learning. Your learning and experience will remove all roadblocks and create opportunities for you and help you achieve success. Remember, always respect the contrarian view, it is a big learning opportunity.
****